Labyrinth Of Refrain: Coven Of Dusk
Купить Labyrinth of Refrain: Coven of Dusk
СПЕЦИАЛЬНОЕ ПРЕДЛОЖЕНИЕ! Заканчивается через
Купить Labyrinth of Refrain: Coven of Dusk Digital Limited Edition НАБОР (?)
Купить NISA Dungeon Crawler Bundle НАБОР (?)
Контент для этой игры Просмотреть все (6)
Об этой игре
Become the living book, Tractatus de Monstrum, and command a brigade of puppet soldiers as you navigate the twisting passageways of the Labyrinth of Refrain.
When at your base, prepare for your journey by upgrading your brigade! Create new puppet soldiers, assign them different squads and formations, synthesize better equipment, take requests from townsfolk, and get assistance from Dronya in the form of Witch Petitions.
Once you've entered the labyrinth, be sure to search every nook and cranny as you jump over barricades, solve puzzles, and smash your way through walls to delve further and further downward in search of treasure and rare artifacts. But be careful, the more riches you obtain, the more vicious the dungeon becomes. Can you survive long enough to bring your haul back?
Fight past terrifying monsters by giving orders to your puppet brigade. Change their formation, use special skills, or call for an all-out attack! The battles you face will be challenging, so your success depends on your preparation and your strategy.
KEY FEATURES
A Massive Maze
Fast-Paced Combat!
Build an Undefeatable Army
Описание контента для взрослых
Разработчики описывают контент так:
Partial Nudity
Sexual Themes
Strong Language
Violence
Системные требования
Минимальные:

ОС: Windows 7/8.1/10 64bit
Процессор: Intel Core i3-6100 3.7GHz
Оперативная память: 4 GB ОЗУ
Видеокарта: Intel HD 520
DirectX: Версии 11
Место на диске: 20 GB
Звуковая карта: Onboard
Рекомендованные:

ОС: Windows 7/8.1/10 64bit
Процессор: Intel i5-6500 3.2GHz
Оперативная память: 8 GB ОЗУ
Видеокарта: GeForce GTS 450
DirectX: Версии 11
Место на диске: 20 GB
Звуковая карта: Onboard
©2016-2018 Nippon Ichi Software, Inc. ©2018 NIS America, Inc. All rights reserved.
Labyrinth of Refrain: Coven of Dusk
Labyrinth of Refrain: Coven of Dusk
ファントム・ブレイブ
Rufuran no Chika Meikyū to Majo no Ryodan
Developer(s)
Nippon Ichi Software
Publisher(s)
Nippon Ichi Software
Designer(s)
Takehito Harada
Platform
PlayStation Vita
PlayStation 4
Nintendo Switch
Genre
SRPG, Dungeon Crawler
Release Date
PlayStation Vita
JP June 23, 2016
PlayStation 4

JP September 28, 2017
NA September 18, 2018
EU September 21, 2018
Microsoft Windows
WW September 18, 2018
Nintendo Switch
NA September 18, 2018
EU September 21, 2018
JP September 27, 2018
Labyrinth of Refrain: Coven of Dusk is a dungeon crawler role playing video game developed and published by Nippon Ichi Software. It was released in Japan in June 2016 for the PlayStation Vita and was released in September 2017 for the PlayStation 4. The game was released for an international release on PlayStation 4, Nintendo Switch, and Microsoft Windows in September 2018.
Contents
1 Gameplay
2 Synopsis

2.1 Setting
2.2 Characters
2.3 Story

3 Production credits
4 Packaging artwork
5 External Links
6 References
7 Navigation
Gameplay [ ]
The player character navigates a 3D dungeon in the first-person view. Monsters are at first, encountered randomly but can be viewed and avoided later in the game. Battles are conducted with the player's party members fighting 2D-animated monsters in the format of a turn-based battle system. As the player character is a book, part of the plot involves utilizing puppets created in varying classes that will assist the player in exploration and battle. Completing battles yields continuous Mana and Silver, currencies which will allow the player to access pivotal features throughout the course of the game.
The playable classes consist of the Aster Knight, a melee-based class; the Shinobushi, a thief-centric class; the Theatrical Star, a support-like class; the Peer Fortress, a tank-centric class; the Marginal Maze, a mage-like class; and the Mad Raptor, a ranged class. The puppets can be created using souls and can have their names, likenesses, voices, stats and origin, much to the player's liking.
The player is able to access a Market with items varying from those that heal HP, ailments and death to items that are needed to create puppets or synthesize puppets with varying traits. Items obtained from exploration can also be sold to the Market for a varying amount of silver. As the story progresses, the selection in the Market will increase in variety and usefulness.
The Alchemy Pot feature allows players to synthesize weapons, disassemble weapons or unseal sealed equipment. Synthesizing weapons consists of setting a base weapon to enhance and then adding several weapons to sacrifice in order to increase the stats of the base weapon. Unsealing a sealed equipment requires a portion of collected Mana and may yield an equipment with strong stats.
Synopsis [ ]
Setting [ ]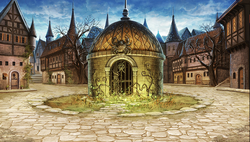 Refrain is a town located on an average plot of land. The town has a church, a bakery, a marketplace and it has a well in the town square known as the Well of Khalaza . Dronya and Luca set their caravan near the well and also set up a puppet theater.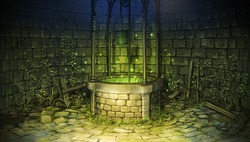 The well emits a miasma which is fatal to humans. It extends deep below the town and contains monsters and several dimension planes. It is rumored that the only person to successfully descend the well and climb back up had written the Tractactus de Monstrum.
Characters [ ]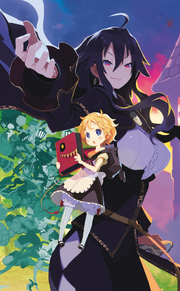 Main cast of Labyrinth of Refrain: Coven of Dusk.
Main article: List of Labyrinth of Refrain: Coven of Dusk characters
Dronya — The Dusk Witch. A beautiful raven-haired witch, cloaked in black robes. Dronya serves the king as a court witch, and is called the Dusk Witch due to her brilliant red-and-blue eyes. She is also known by another name: Baba Yaga. [1]
Luca — The Witch's Apprentice. Dronya's young apprentice and traveling companion. An upbeat, excitable child who is easily moved to tears and laughter, often alternating between the two. Despite her young age, Luca can perform a variety of household tasks, such as cooking, cleaning, shopping, and doing laundry. [1]
Tractatus de Monstrum — The Fabled Cursed Tome. A legendary book, scribed by the only man to uncover the secrets of the labyrinth and survive. As the player, your soul has been sealed in this book. [1]
Neldo — The Mysterious Youth From the Labyrinth. A silver-haired young man who keeps a sword at his waist. Neldo is a trained warrior who specializes in sword techniques. He disapproves of Dronya's exploration and eventually emerges from the labyrinth to confront her about it. [1]
Petrone — Acting governor of Refrain and chairman of the Petrone Company, the largest market in town. It was Petrone who sent for the Great Witch, Baba Yaga, to investigate the Labyrinth. [1]
Klaus — A butler in service to the Petrone Company. Polite, professional, and respectful in all his interactions with others. For this reason, he is perhaps too accommodating when demands are made of him. [1]
Juliet — Wealthy heiress of the Flandre Company, the second-largest business in Refrain. The people of Refrain hold her in high esteem and address her Lady Juliet as a sign of respect. She is never seen without her signature blue-and-white parasol. [1]
Maylee — A chipper, outspoken young woman who works at the bakery. Her passon for bread is second to none, and she wakes up bright and early every morning to prepare fresh loaves for the day. It bothers her when people think she's older than she really is. [1]
Nemto — A master craftsman whose dextrous hands belie his enormous frame. As a man of few words, his apprentice Fritz does all the talking for him. Despite his appearance, he is actually quite fond of children. [1]
Fritz — A young boy, not much older than Luca, who works at the craftwork shop. He can be a little bratty, but he works day and night under his mentor, Nemto, so that he can become a proud craftsman himself one day. [1]
Marietta — A one-eyed nun who resides in the town abbey. She lives a modest life of frugality, with potatoes serving as her main food source. Despite being a servant of God she will indulge in some vices, such as eating meat and drinking wine, should the opportunity present itself. [1]
Pecorino — The Dawn Witch. A witch located in the Kingdom of Astrom.
Story [ ]
Deep beneath that isolated and forsaken town lies an unexplored underground labyrinth. Nobody knows who built it, or when it was built.
Some say it holds treasures that could control the world, treasures that could make one immortal, and a slumbering demon king whose awakening could end the world. But no one knows for certain.
What is known is that the labyrinth is filled with cursed miasma, a substance that brings death to any human it touches.
One day, a witch arrived at Refrain with the intention of exploring this labyrinth.
Her name was Dusk Witch Dronya.
She had in her possession a legendary book, said to have been written by the only man to explore the labyrinth and survive. The Tractatus de Monstrum.
Production credits [ ]
Staff [ ]
Labyrinth of Refrain: Coven of Dusk True Ending Guide

Labyrinth of Refrain is already plenty long for players that just play through the basegame's story, with it taking me over 60 hours to see the credits roll. But, what if we told you there are another 20+ hours of content waiting for you if you complete some special requirements to unlock the post-game? Well, it's true, but we can't blame you if you didn't know about the post-games existence or how to unlock it while playing through the story on your own. It's one thing to figure out how to even unlock the post-game, but it's another thing to defeat the gauntlet of 6 «superbosses» hiding the required Black Pages gating your progress. We've got a list of the bosses you'll need to face, and some tips for how to deal with their monstrous power.
The Black Pages, and Their Significance
As previously mentioned, there are 6 bosses holding the 6 Black Pages that you will need to unlock the post-game, and eventually the True Ending. Each of the well's 6 dungeons (Campanella, Astrom, Melm, Phenom, Umbra, and Amadeus) have their own respective boss, holding their own respective page. Once you have found and conquered each of these bosses and claimed their pages for yourself, you'll need to defeat the final boss and create some Clear Data. Upon loading Clear Data which includes all 6 Black Pages, you'll be asked if you wish to continue the story and will return to Velkuvrana's belly — Ornit.
The 6 Bosses, and Where to Find Them
As mentioned, each of the well's 6 dungeons hides a boss — some more hidden than others. We'll start off with Campanella's boss and go down from there, although the game doesn't necessarily expect you to tackle these bosses in the order that these dungeons appear in the story!
Devon
A giant, purple fish. He can be found relatively easily — he's hidden past a gauntlet of breakable wall puzzles on B6 of Campanella, around (X22,Y7). He is the easiest of the 6 superbosses to fell — I managed to defeat him during my revisit to Campanella during the story, with a party of mid-80s soldiers.
D.E. Machina
The first of the superbosses that requires some extra prep to find them. Players might've noticed a sign near the end of Astrom mentioning that «something big» was nearby. Unsurprisingly, once the requirements are met this fight will eventually spawn near here. The trick, is, that you'll need to complete a few sidequests to acquire a book that will allow for him to spawn.
You'll want to complete the sidequest «Skilled Clockworker», which itself is unlocked by completing the sidequest «She Sees Everything!» in Apprentice Notes [Correction: Nearly all Apprentice Notes before post-game need to be completed for Skilled Clockworker to appear]. Since the «Embarrassing Diary» that the latter quest requires only drops in Tanis (the story's last dungeon), you'll be unable to tackle Machina until the very tail end of the story. Upon collecting the diary, the quest we actually want to finish will task you with finding an Old Pocketwatch on the B1 of Campanella. You may have already received one of these earlier in your travels, in which case — good work if you didn't sell it! You just saved yourself a lot of time, as it only spawns at treasure points on this floor. On the flip side, you can break a wall at (X16, Y25) to uncover a chest that when unlocked with the Furia Key you can find in Tanis will contain an Old Pocketwatch for you.
Complete the sidequest and head to the newly spawned Event Point in Astrom to initiate the battle.
Empress Junon
By far the superboss that requires both the most prep and the most curiosity to find and defeat. Junon is found in the Holy Mausoleum in Melm — the bottom floor of the dungeon. Yes, the Wing Temple is not the bottom floor. Maybe you noticed a specific hole on this floor in your exploration and discovered the new floor yourself, but if not you'll need to drop down a hole at (X14, Y26) to reach it. But before that, we're going to need a certain Pact in order to even damage her, which can be found in an entirely different dungeon.
You probably noticed this Event Point during your revisit to Campanella, but on the Eastern side of B7 you'll have a fight with a lone Lamb monster if you haven't already and receive Bah-Bah's Pact. You'll need this pact in order to cast Divine Exposure after Junon puts up her barrier — otherwise, none of your attacks will connect. Defeat her (keeping care to defeat her minion that heals her first!) to receive the next Black Page.
King Pecoro
It's impossible to miss this one, and chances are you might've run into it on your own during the game. This particularly large Pecoro is standing at (X15, Y3) in «Fallrealm/Gem» in Phenom. It's stronger than Devon, so wait until you're at the endgame before challenging this one.
Overlord Furfur
You'll have talked with her, as well as already have defeated her lower half once by the time you'll get the option to challenge this boss for real. After clearing Umbra you may challenge her by entering her room again at (X15, Y04). You'll require the Vorpal Cane, which you either receive from your first fight with King Alice in Umbra, or through your second encounter with him in Umbra's basement.
Furfur is the hardest of the superbosses to defeat. You can't even damage her until she debuffs herself, allowing your attacks to deal damage. As she gets closer to death she'll target your party members to take a bite out of, restoring her health in the process. She's a test of both your defenses and your DPS, leading up to the post-game so challenge her last.
Zlavec
Zlavec is found at the very bottom of Amadeus, where you originally see the scene of Oracle being devoured. Unsurprisingly, if you return to that same location Zlavec lashes out at you. Defeating him will award you with the last of the Black Pages required to access the post-game, and open the path towards the True Ending.
Ornit, and the Extra Dungeon
Once you have collected all of the Black Pages, defeated Baba Yaga, and continued from your Clear Data you'll find yourself in Coven's largest, most complex, and most difficult dungeon — Unclean Ornit. Each floor itself is based on a dungeon from the main game, with the final floor being entirely new. There's not much help we can give you here — if you've made it this far, you should have an idea of how to format your team, and what your strategies will be. The only thing I can say is that you'll want to take advantage of Soul Transfer, especially for the final boss. Take advantage of stockpiles when you can, and if you find a good spot to grind make use of it if you find it necessary. Good luck.
Labyrinth of Refrain: Coven of Dusk – XP Farm Locations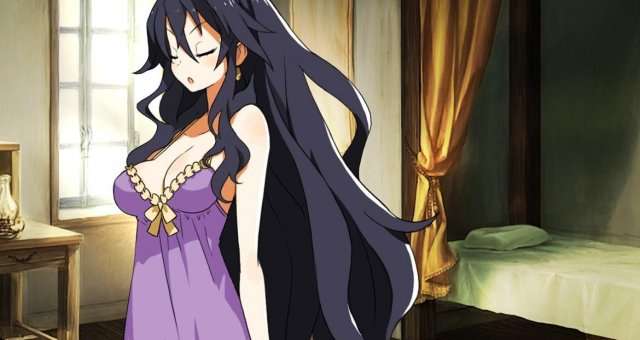 A set of locations for farming puppet XP, Coven XP, or even both.
Other Labyrinth of Refrain Guides:
Melm, the Buried Empire – Heros Revelry
Target enemy is Ringa Metallia, a metallic enemy vulnerable to Blunt damage. It will attempt to run away on its second turn. Effectively it is the Metal Slime of the game woth 7,800 XP each before stock pile bonuses or chain battle bonuses are taken into consideration.
The highlighted room is situated right next to a staircase, so you can drop 2 mud exits outside the room for being able to leave to refresh your RF when you run out and then just clear the room and use the stairs to refresh the spawns.
A word of warning, the Ringa Metallia does not always spawn in the packs in the room. So do not be discouraged. It does have a decent spawn rate however.
Three Towers of Umbra – West Tower 5F
Once again you are hunting for Ringa Metallia, which is weak to blunt and likes to run away. They also spawn in packs or 3-4 in this area. The marked locations in green are where you can find Mana Prisms instead of Ringa Metallia.
The Mana Prisms have a chance to drop souls, they give massive chunks of mana and a reminder: you can trade 30k Mana in for a Treasure Barrel which you can either break for a soul or sell for 55k silver. So on top of being an XP farm this area can be used to make money.
There are 2 ways to this area: You can go through the 2f of the central starting tower over to the west tower then take the stairs up, smash out 2 walls on your right at X:12 Y:26 and X:12 Y:22 and go up the stairs until you hit the 5th floor or you can stay in the center tower and go up to the 6th floor, cross over to the west tower and then jump in a pit.
Post Game: Unclean Ornit
There are 2 zones in the Post Game Dungeon Unclean Ornit useful for level grinding.
Azu-Melm the first floor of the post game dungeon:
Azu-Umbra II the fourth floor of the post game dungeon, specifically the east tower:
Both for the Gold Bittern spawns.
Gold Bittern at the start of the battle uses Gold Flash, which deals damage to the entire brigade and has a chance to inflict confusion. Other then that it is just like the normal Bittern or Ringa Metallia: It will try to run away. So stack confusion resistance.
Gold Bittern are worth 38k XP each before XP bonuses are taken into consideration.
Azu-Umbra II is notable for the Gold Bittern spawning in packs of 5. This one is recommended to do after you farm up the various pacts that provide 666% increased xp.
A reminder about those pacts that give that big XP bonus, they only allow people with even lucky numbers, 00 for the record counts as even.
Coven XP Farm: Astrom North
Easiest way to do this one is to go to the Astrom Kingdom II antechamber for the dispatch list, hit fog veil, and go ham on the 4 Purple Symbol enemies in the red circled spots then hit up the chamber back to base and do it again.
So here is how Coven XP works:
You get 1 XP per victory over a red symbol enemy.
You get 15 XP per victory over a purple symbol enemy.
You get 50 XP per victory over a Mana Over symbol enemy.
The level XP requirements are roughly this:
2: 15
3: 31-45
4: 61-75
5: 136-150
6: 265-280
7: 448-451
8: 659-664
9: 940-943
10: 1299-1304
Coven / Puppet XP farm – Melm, the Buried Empire – Temple of Wings / Hero's Revelry
This one is one I figured out myself, and what prompted me to make this guide. All the other ones before it I included because its useful information for purpose target farming that can or do provide higher yields.
In short the target we are going to be farming is the Trolls, a purple symbol enemy that patrols various large sections of Melm. They give 2.2k XP base each, and due to being a purple symbol enemy are worth 15 Coven XP each. They also tend to spawn in packs of up to 3, or with a member replaced with either a Young Troll, or bunch of Ogre Fleas. So the XP ranged from 2.2-6.6k in XP total per fight.
Trolls are vulnerable to Pierce and Slash damage, so powerful Spears, Crossbows, Swords, Scythes and Katars are recommended. As is the Witch Squad Pact for its useful Piercing Rush II for your casters. A strong enough group can clear the trolls in 1-2 turns. That also means you may need to use Fog Veil to keep the troll symbols from running away from you.
So enter from the Melm, the Buried Empire II antechamber, smash the wall directly ahead of you and head to the left side of the map.
In total there are 6 troll symbols on this floor, 2 in the area on the left, 4 in the area up top.
Once you clear them you can take the stairs to the south of the antechamber to…
There are a total of 5 troll symbols here, 2 in the first group, 1 in the second, 2 in the third. Once you take them out you go back to the stairs you had used to get up to the floor.
Per cycle this is 165 coven XP, and can produce
75-100k XP+ depending on how high your stacking bonus is and your luck on group configuration. I regularly wind up getting 300k XP from doing this when I have to leave to replenish RF before return bonus.
This may not provide the most XP, be it coven or puppet, per hour compared to other ones but is a solid choice if you want to work on both at the same time.
Labyrinth of Refrain: Coven of Dusk – True End Guide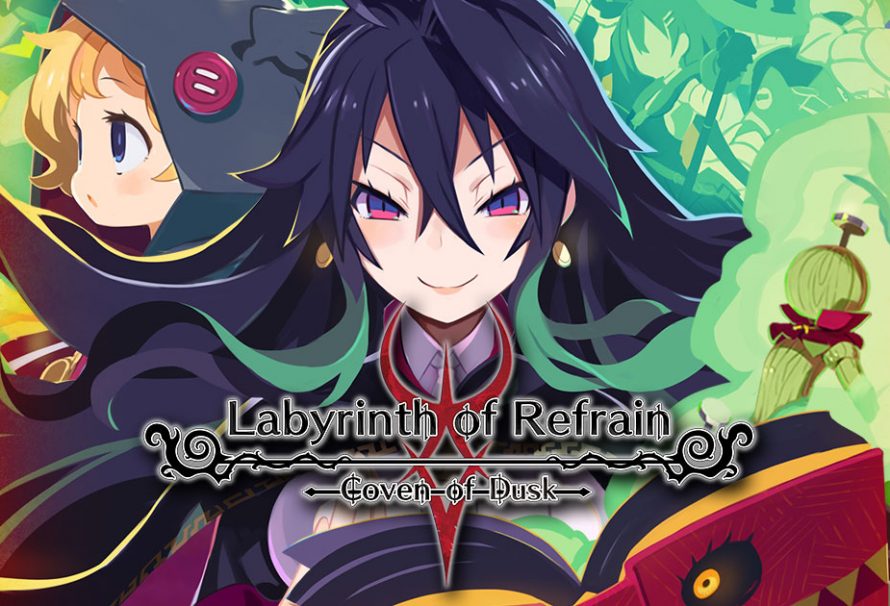 There is a lot of confusing things in Labyrinth of Refrain: Coven of Dusk. Players need to figure a lot of things out through dumb luck, trial and error or just thinking outside the box. Among the easiest and hardest is getting the true end. Nothing about the true end is hidden, per se, but the details, conditions and requirements can be tricky. Thankfully, this guide will help make it a lot simpler.
Requirements
To get the true end you need to receive the six black pages, which make up trophy/achievement Page 51 through Page 56, beat the last boss, transverse an additional dungeon and defeat one more monster. High note, unlocking the true end is the same as platinuming Labyrinth of Refrain: Coven of Dusk, though it's a lot harder and longer than it sounds.
For this I strongly suggest having a party in the 70s, with multiple leveled decked out characters (leveled and strong equipment), and a diverse range of classes. This isn't terribly important for the first couple of bosses but it will become a bigger hurdle as time progresses. That being said, I can confirm it's possible to beat the absolute last boss without messing with Soul Transfer, it will just rely on luck and/or tactics.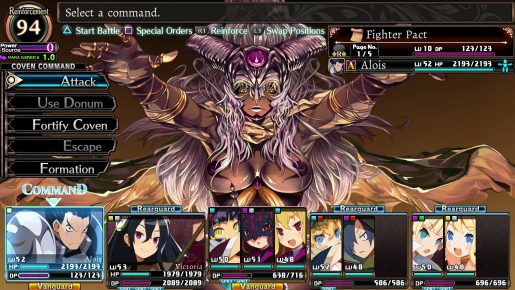 Build
As for build, unless specifically mentioned otherwise, I suggest having a diverse range of characters, finding a formation that matches your team and keeping an eye out for good pacts. For post-game I found Dusk/White Rose to be a good general pact and Mira to be a fantastic support pact. For the last one you can do whatever, so I just picked a good back up support one with a couple slots.
The idea behind this build is to use Mira members as dedicated support characters, so give them things like the Old Great Fairy Scalp, with everyone else attacking. You should cycle through the skills, keeping a close eye on what the enemy does. So, if they do physical attacks, don't use magic wards and vice versa. I also suggest keeping an eye on speed, as, if you can't fortify or buff before taking damage, you might as well attack. For harder bosses you want to slip a level one character into the first support slot and use Iron Hide II to decrease incoming damage. From there it's all luck and reacting to what your enemy does.
Unlocking the Pages
As previously mentioned, you need six black pages to unlock the final dungeon. Everyone is hidden behind an extremely powerful boss, with every dungeon getting an optional boss. While this guide goes in order of the dungeons, I suggest saving The Astrom Kingdom and Three Towers of Umbra for last. It's also helpful to do Cobalt Campanula first, though not required.
Cobalt Campanula – Subterra – B6
First and foremost, to get to Subterra – B6 you need to head down the alternate path, which is located to the left of where the dungeon starts. If this is confusing, check out The Astrom Kingdom guide for an image showing the location. After that you need to make your way down to the sixth floor and make your way to the red exclamation point. Since this can be rather annoying, a map is located below.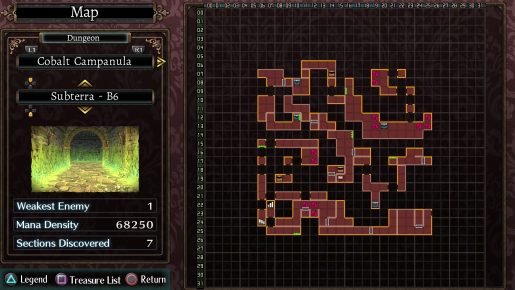 It might take a couple visits to get to the end, so just take it slow and try to use mud exits to save progress. Even though it's a pain to get to, this is one of the easier bosses. There isn't a complicated mechanic or additional element, so fight normally and hope for the best.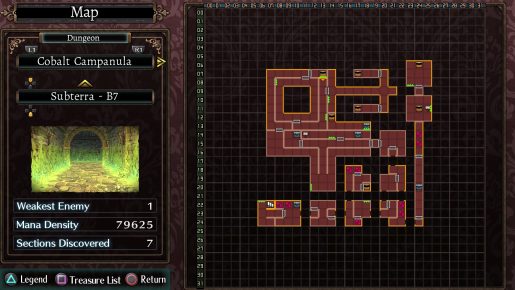 After beating the boss, you might want to head down to B7. The left path has an optional boss you need to defeat for the Melm, The Buried Empire page and the chest behind him has a fantastic pact for the last boss (not the true end one). I included the map above to make it easier.
The Astrom Kingdom – N. District
Unlike every other boss, this one only appears if you have The Art of Globe Repair in your possession. This is obtained by completing the Skilled Clockworker apprentice note. To unlock the note, you need to do, as near as I can tell, every other note. To complete the actual request, you need to find an Old Pocketwatch. While you should get one through normal progression, one can be found in the Subterra – B1 treasure chest found at X24, Y14 (requires Furia key) or as a treasure reward on the same floor.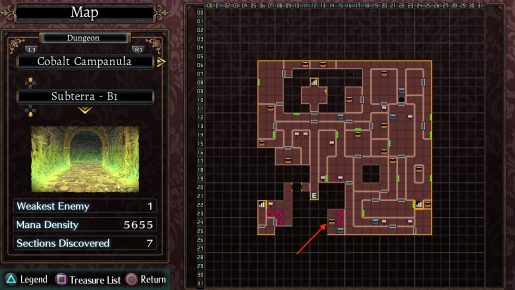 Once you have it you can turn in the item, get the book and a new event will appear in the Astrom Kingdom. Clicking on it will summon the boss, which isn't terribly complicated, but will require some decent tactics to defeat.
Melm, The Buried Empire – Divine Mausoleum
Okay, so, to find the Divine Mausoleum you need to head to Temple of Wings and fall down a hole. This is located at X26, Y14, which can be seen in the image below.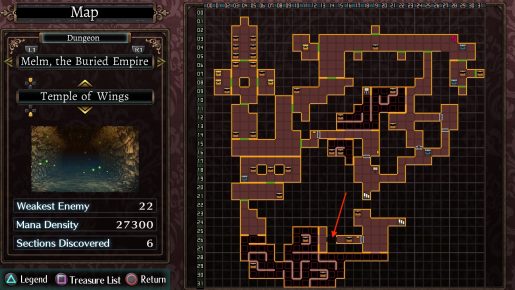 As for the Divine Mausoleum, you need to run around the dark, find door unlocks and warp around until you finally make it to the boss. This can be extremely annoying, so you can cheat and use the map below.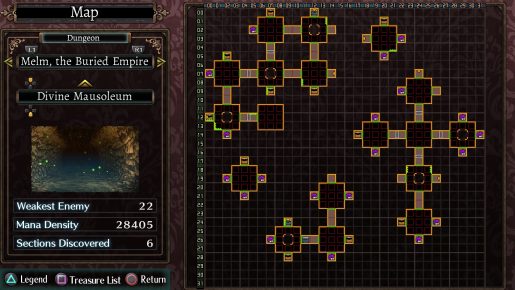 Now, before you fight the boss, make absolutely sure you have Bah-Bah's Pact and it's in your formation. If you don't have it, simply return to Cobalt Campanula, head down to B7 and defeat the boss down the left path. If you can't find it, a map of the area is located under the Cobalt Campanula section.
Anyway, Bah-Bah's Pact has a unique Donum called Divine Exposure. This skill, which only needs to be used one, actually lets you damage Empress Junon. Without it you will lose, so don't even bother without. As for the fight itself, outside of killing her machine first, her gimmick is the only thing to worry about.
Verdant Phenom – Fallrealm/Gem
Unlike most of the others, you should come across this one through story progression. If not, simply head to the top of Fallrealm/Gem and defeat the giant flower. Be careful of its bite and remember it's weak to fire.
Three Towers of Umbra – Umbra – Top
Unless you kept things simple, returning to Overlord Furfur at the top of the first tower will prompt a battle against her. This is easily the hardest fight for two reasons. Her bite isn't just devastating, it also heals her and you actually need her to debuff herself to take damage. The best way to handle her is to fortify until you see that message and then start your assault.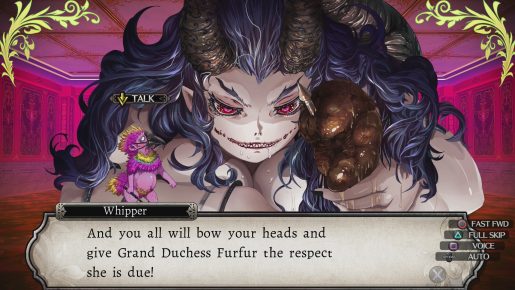 Amadeus Necropolis – Final Morgue – Bottom
Similar to last two bosses, this one is located where you meet the Oracle. It's another straightforward boss, though don't be surprised if you can't beat it on your first visit.
Dusken Tanis – Refrain – N. District
Here you fight the last main story boss and actually unlock the true end path. This fight is different, since it isn't hard, though it does a lot of burst damage. If you find yourself having issues, the Great Sage's Pact has a unique donum called Evil's Bane Blue Stone, which weakens this boss. This pact is located in a chest located behind the goat boss in Cobalt Campanula. After defeating it your fun has just begun.
Getting to the True End Boss
Before you can defeat the boss, you need to complete a new dungeon that is comprised of a level based off every other dungeon, plus a brand new one. Every level designed after a stage retains the same qualities of the actual dungeon, meaning you need to utilize the same tactics. To make this a little easier, you can find my maps below.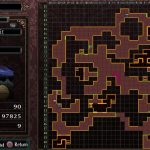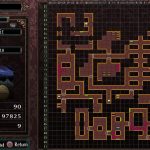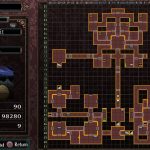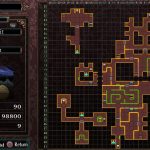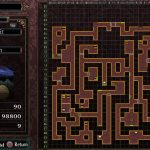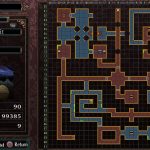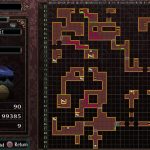 While they're not fully complete, they do show the path to the end. For Azu-Melm and Azu-Amadeus I strongly suggest using Fog Veil to avoid annoying enemies and not take damage for stepping on red squares. You should also note that there is a boss on Azu-Melm, Azu-Campanula, Azu-Phenom, Azu-Magia and Azu-Tanis. The first two are introduction bosses, with the Azu-Phenom being fairly difficult, Azu-Magia offering no challenge and Azu-Tanis is another glass cannon situation.
Once all the bosses are dead, head to Azu-Astrom and find the north exit. It should require you to go to the X15, Y8 pond and then jump to the end.
Velkuvrana's Heart
At this point you're at the last boss and while it seems simple, it's easily the hardest thing to deal with in the game. The issue isn't just the obscenely high health, it has some fearsome AoE attacks and has a debuff move straight out of Criminal Girls (it has the chance to hit you with every negative status). Needless to say, this one requires a different build.
The best tactic is to raise your resistance, have plenty of green apples (they bring you back to normal), buff as much as you can and try to inflict status aliments on the heart. If you can do the latter, it's an extremely easy fight, otherwise you need to learn the pattern (as near as I can tell it has a set rotation) and be lucky.
Since it does so much damage to begin with, I strongly suggest always being on the offense, with there always being someone doing buffs and/or healing. Once multiple allies go down, use items to revive and then heal. Do not let your buffs lapse or you will be in a tough spot.
Other than that, if the boss is too much, simply level and enhance until it becomes a more doable challenge. Outside of that, enjoy your platinum/ending.
Источники:
http://store.steampowered.com/app/566540/Labyrinth_of_Refrain_Coven_of_Dusk/
http://nippon-ichi-universe.fandom.com/wiki/Labyrinth_of_Refrain:_Coven_of_Dusk
http://www.nintendo.ru/-/Nintendo-Switch/Labyrinth-of-Refrain-Coven-of-Dusk-1446219.html
http://www.rpgsite.net/feature/7772-labyrinth-of-refrain-coven-of-dusk-true-ending-guide