Resonance of Fate 4K/HD Edition Review
Разочарование: Resonance of Fate 4K/HD EDITION
Много лет назад у меня была возможность поиграть несколько часов Resonance of Fate (также известной как End of Eternity) на одолженной у друга PS3. Далеко я не прошел, но пообещал себе вернутся к игре потом, хотя бы ради её офигенной боевой системы. Вот вернулся. Вполне возможно, той пары вступительных часов было бы достаточно.
Это jRPG от tri-Ace, лучше всего известных по сериям Star Ocean и Valkyrie Profile. И как и в этих сериях, в Resonance of Fate полно необычных механик и оригинальных идей поверх стандартного jRPG геймплея. Правда, в отличии от тех серий, эта игра полностью держится на таких механиках. Попробую объяснить.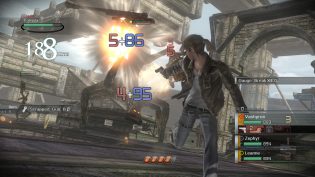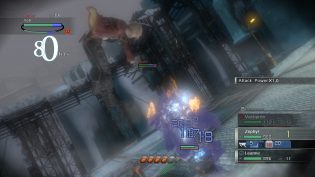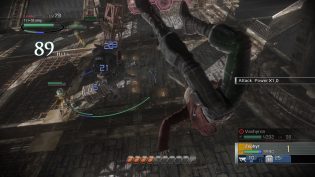 Самым интересным элементом игры является боевая система, которая одновременно и очень простая, и полная нюансов и сложностей для максимально эффективного использования. Традиционно для жанра тут есть отдельная боевая арена и пошаговая система, но на практике всё получается совершенно иначе. Во многом благодаря двум основным базовым задумкам. Первая задумка – это разделение всего урона на Scratch Damage (синего цвета) и Direct Damage (красного цвета). Scratch damage (который наносится автоматическим оружием и некоторыми статусами) очень быстро набирается как и на врагах, так и на ваших персонажах, но убить он никого не может и со временем регенерирует. Direct damage (который наносится пистолетами, взрывами и некоторыми другими типами урона) сам по себе обычно медленно наносится и в очень малом количестве, а против бронированных противников особенно малоэффективен. Но весь посиневший кусок полоски жизней можно конвертировать в direct damage всего одним выстрелом из пистолета (плюс урон самого пистолета). А значит, все битвы построены на грамотном чередовании типов урона, с быстрым обстрелом врагов из автоматического оружия, чтобы потом одним выстрелом из пистолетов или гранатой сразу вывести их из строя.
Для того, чтобы это было особенно интересно включается вторая задумка – "hero gauge". Эти кристаллы снизу экрана нужны для двух целей. Во-первых, они работают как "броня" для персонажей и пока есть хоть один кристалл, ваша команда будет получать только синий урон и не может умереть окончательно. Во-вторых, эти кристаллы можно использовать для "геройский действий". Работают они очень просто – вместо того, чтобы просто прицелится и выстрелить, ход персонажа можно вместо этого потратить на "геройский забег", напоминающий боевики Гонконга или Матрицу. Начав это действие персонаж будет бежать по заданной траектории и постоянно целится (и получать возможность стрелять) в противников, столько, сколько длится забег. Любые противники, которые пытаются по персонажу попасть в это время обязательно промахнутся. Что, в итоге, и становится главной механикой почти всех битв – можно делать перебежки из укрытия в укрытие, можно грамотно делать забег длинней прыгая в последний момент и стреляя в прыжке, можно использовать специальный тройной забег всеми персонажами сразу, можно попробовать всеми атаковать лидера противников забегом и завершить битву как можно скорее… Это очень прикольная механика и я ничего подобного ранее в пошаговых или частично пошаговых играх не встречал.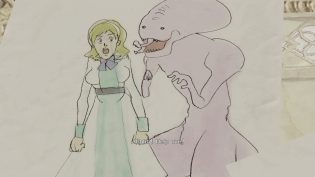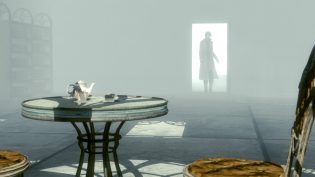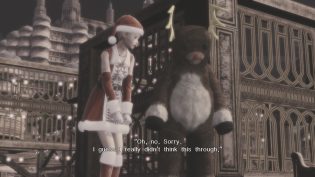 Офигенная боевая система. Но, возвращаясь к первым абзацам – единственное, на чем игра держится. Тут есть что-то, что можно назвать сюжетом, но он рваный, мутный, скучный и начинается где-то только к середине игры. Плюс, все персонажи в игре, включая игровых, невероятно нудные в лучшем случае, раздражающие в большинстве случаев. Когда игра начинает рассказывать про свой мир и что вообще происходит, может стать интересно на пару секунд, но все действительно интересные вещи только вскользь упоминаются в диалогах и не имеют к игре прямого отношения.
Выглядит игра тоже посредственно, даже с новыми текстурами в высоком разрешении. И хоть в игре очень много внимания решили уделить "моде" (одежду тут покупают для того, чтобы выглядеть красивее, броня работает иначе), визуальный стиль в игре тоже какой-то смазанный и не выдающийся. Музыкально игра пробует сделать что-то синтезаторно-прог-роковое, но мне саундтрек показался скучным. Даже задумка с исследованием мира через активацию фигурок состоящих из шестиугольников (которые выпадают из врагов) на практике скорее приводит к унылому грайнду. Ещё тут можно и нужно приделывать дополнительные улучшения к пушкам и балансировать их вес и возможности, но даже это очень неудобно и не особо интересно. И тоже очень-очень грайндово…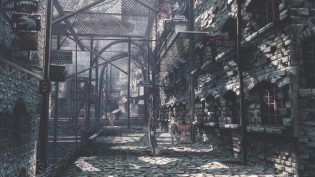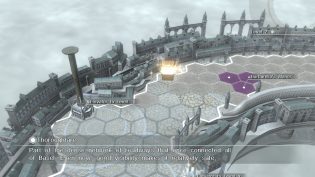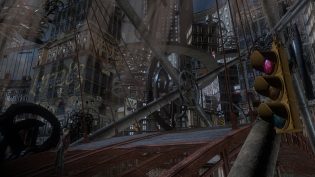 Если вас заинтересовала действительно классная боевая система и у вас получается наслаждаться играми такого плана только на одних механиках, обязательно поиграйте в Resonance of Fate. Я очень надеюсь, что идеи из этой игры не пропадут и другие проекты придумают что-то похожее. Но большинству людей тут, скорее всего, станет очень скучно и очень быстро. Это, если они вообще разберутся как в игру играть, потому что она это не очень хорошо объясняет. Я рад, что игра существует, рад что 9 лет после знакомства её прошел. Но вряд ли когда-либо стану в неё играть ещё раз.
If you have found a spelling error, please, notify us by selecting that text and pressing Ctrl+Enter.
Resonance of Fate 4K/HD Edition (PS4) Review
During the Xbox 360 and PS3 era, we had a lot of JRPGs which went above and beyond by delivering us tens, or even hundreds, of hours of engaging stories around some rather interesting mechanics. This generation we've had a few, but most publishers seem to think the RPG genre simply means 'Large open world full of fluff and minor distractions'. Thankfully, tri-Ace has spotted this gap in the current market and not only remastered Star Ocean: The Last Hope earlier this year, but they also fully remastered Resonance of Fate in full 4k on both the PS4 and PC.
I remember playing this game on my PS3 many years ago, getting stuck and confused at the unique mechanics, and then giving up as I moved onto the next game which sparked my interest. However, I couldn't refuse the opportunity to give the game another chance and dive into it, especially not after the brilliant remaster of Star Ocean the team did this year. That's right, Resonance of Fate has almost all of the same customisation and settings which we saw in Star Ocean, only this time the engine seems a lot more stable and manages to hold a decent framerate at the full 2160p.
So, whether you're a fan of the game or never heard of it before, let's take a deeper look at this hidden gem of the last generation which has been perfectly remastered on the PS4 and PC…

Blinded by the beautiful lens flare!
Resonance of Fate is a story set in the distant future on Earth. Due to atmospheric pollution which has wiped out all but a small fraction of the population, the remaining survivors create a purification system known as 'Basel'. Due to their necessity to be close to the device, they create a multi-layered city around it which is protected by the mechanical 'heart' of the settlement – Zenith. If you've ever seen Logan's Run, Resonance of Fate is a little like that as Zenith basically grants each human a connection to a quartz stone – a device that grants immunity to the pollution yet also predefines their social stats and life gauges.
Throughout the game, you'll take control of three protagonists, Zephyr, Leanne and Vashyron. They're all part of a merc group that retrieves jobs and tasks from the locals and delivers results in exchange for money and items. However, as our trio work their way through the various missions placed before them in this steampunk visualisation of the future, they'll begin to dig deeper into the things which are occurring behind closed doors. It's a story of trust, betrayal, intrigue, and excitement as you bounce between JRPG, strategic turn-based combat, and a rather unique map system.

That's one big fecker!
Combat
One of the main things which stood out for me within Resonance of Fate was its take on combat and the map system. I'll begin with the combat though as it will be instantly familiar to anyone who has played a Valkyria Chronicles game. The main combat mechanic is turn-based/semi-realtime action where you take control of one of your characters and have a set amount of time to move and/or attack. Basically, you move about in realtime whilst the enemies move or charge up their attacks at the same time. This does take a little bit of getting used to as there are multiple ways to attack the enemy – which is where the strategic aspect comes in.
Each character can be equipt with either a standard weapon, a machine gun, a medic bag, a bullet case, or a grenade bag. Depending on what you give them, they will level up faster if they're using something new and have different options given to them within combat. For example, the machine gunner can't inflict direct damage, they only perform 'scratch damage'. This does a tremendous amount of 'Blue' damage to the enemy, but it never actually reduces the enemies health. It just overlays the health bar with a blue indication of how much the enemy has been 'scratched'.
The standard weapon guys are your actual combat team. These can actually hurt the enemies, yet you hardly take anything off if you attack directly! This is where the scratch damage comes in use. If you get in a few hits on an enemy who has scratch damage, you'll take off your standard damage PLUS all the blue pre-emptive scratch damage as well. This means you can tear the enemies armour to shreds and kill them in one shot if you're lucky!

As there is strategy and pre-planning involved in most of the combat segments, you can perform a few planned out attacks such as a Hero attack and a tri-attack. A Hero attack sees your character running in a straight line, nobody can hurt you and you won't stop until you reach your destination. As you run, you can swap targets, fire as fast as you can charge up, and even jump to attack from above and from all sides.
The tri-attack is where it gets interesting. If all three characters can see each other then pressing Triangle will allow you to all run towards each other as you take it in turns to blow the crap out of your target! It's very effective and means you get three attacks for the price of one. However, using either of these two attacks will use up one of your energy stones.
Energy stones act as group 'health' or 'lives' – a bit like Golden Axe on the Mega Drive which had characters sharing their continues. Once you've done the above attack or one of your characters has had their health reduced to zero, a stone is used up. If you're attacked with a critical hit whilst you have an empty stone, it will shatter into pieces and fly all over the place. Empty stones are refilled by killing enemies, breaking armour or performing certain attacks – but if you've only got a partial stone in your reserve, it won't fill unless you pick up those pieces!

Unlock paths on the map by laying down hexagonal shapes you find.
Overall, I really love this combat as it's really refreshing to play a JRPG that isn't a Final Fantasy knock-off in terms of its controls. It's really innovative and offers up a lot of challenge, as Resonance of Fate plays with the standard JRPG genre and twists it into something new with these mechanics we've not really seen before. As you progress throughout the game, the enemies become much, much harder and you have to adapt to every single one, otherwise, you'll end up becoming overwhelmed and instantly slaughtered. Another rather innovative gameplay mechanic comes in the form of something a lot of games take for granted…
…The Overworld Map
Resonance of Fate threw me off guard the first time I played it on the PS3. The overworld map is both strange and addictive at the same time with its rather unusual and unique method of exploration and discovery. Basically, when you defeat the enemies, you'll find 'energy hexes'. These are shapes made out of four hexagons which are all combined together and come in a variety of shapes and colours. In order to 'explore' the map, you need to place the grey shapes on the overworld map, with no hexagon spilling off the edge and they can only be placed next to or overlapping ones you have already placed. It's basically like a giant jigsaw puzzle and you have to place the right pieces so your character can progress across the map.
The coloured versions, which I mentioned above, are the same only these are used to bypass certain roadblocks. For example, there may be a blue line of hexagons stopping you from getting to a certain mansion. You'll have to place a blue Energy Hex on it first, then you can continue to build out with the grey ones. You can also use the coloured ones to connect a factory to a combat zone – this allows whatever benefit the factory has to be leaked into the combat area. Benefits range from a higher rate of item drops to increased damage.
Just like the combat, it takes a while to fully get to grips with how everything works, as it's all very different to things we're usually used to in JRPGs. Once you've got the hang of it, the whole game is really innovative and different – in a good way.

So many options, just like in Star Ocean: The Last Hope
Technical
Resonance of Fate shares the same engine as Star Ocean: The Last Hope, which is most likely why tri-Ace decided to remaster this game as well as the latter – I imagine all the hard work had already been achieved upon remastering Star Ocean: The Last Hope. As such, we see a return of most of the customisations option on the PS4 which we saw last time.
If you're playing on a PS4 Pro/PS5, you can:
• Adjust the shadow buffer to 1x, 2x, or 4x, with each increment offering a more defined and sharper shadow.
• Anti-Aliasing (help with any jaggies), Camera Blur (smooths visuals as you move/turn), and Depth of Field (naturally blurring objects in the distance) can all be turned on or off as you choose.
• The texture resolution can be low or high – low being the PS3 quality and high being the new higher resolution textures.
• You can set the resolution to 1080p, 1440p, or 2160p (you can pick 720p or 1080p on a standard PS4).
So, as you can see, there are plenty of options for you to play with in order to achieve the best quality over performance which you which to go with. Personally, I'm on a 1080p TV yet I've had it at 2160p (supersampled) as well as the Shadow Buffer at 4x, the Texture Resolution is High, and everything else is on, and I've not noticed any slowdown or jerkiness. This isn't like Star Ocean: The Last Hope, where the game is a massive open-world for you to roam and explore, Resonance of Fate is a bunch of small arena-type battles which are loaded one at a time.
All of the sound effects, music, voices and ambient noises are perfect in my opinion. I even love how the menu system has an option to change the layout of your speakers – as in literally dragging on-screen whereabouts your speakers are located, so it can adjust it's output accordingly! You don't see that too often these days.

There is some customisation included – I like the odd-coloured eyes!
Personal Opinion
I vividly remember playing Resonance of Fate on the PS3, getting to around chapter three and then giving up because I found it too hard. Upon playing this remaster, I've made it to the end of chapter five so far, yet I'm clocking in at around 30-35 hours of playtime. It's just as hard as I remember it, with its unforgiving battles and lack of empathy for you if you've not picked up the game mechanics fast enough. But that's what I love about this game – you learn from your mistakes and jump right back in to try over and over again until you finally get the satisfaction of obliterating all those who have slain you before!
If you're looking for a JRPG that will last you countless hours as you work your way through a slightly confusing yet deep story filled with humour, action, unique mechanics, and bewbs, then you can't get much better than Resonance of Fate. Saying that, Star Ocean: The Last Hope, another one of tri-Ace's amazing remasters is also a hidden gem you shouldn't overlook – with its 500+ hours of gameplay if you're looking to platinum the game. As far as remasters go, they seem to have got the formula spot on – offers a technically superior product both in terms of performance and visuals over the last generation as well as a bunch of customisations on both PC and the PS4.
The one negative I have in regards to the game, other than it's confusing at first mechanics, has to be the difficulty. I believe it will put a lot of people off as it does get pretty brutal. For those who like hard games, once you complete the game you can opt to play again in New Game+ with all your items (if you chose the same difficulty), or opt to play a harder version and start with nothing. NG+ also lets you increase the difficulty up to ten times, once for each time you complete the game. Thankfully there's no trophy for going down this sadistic route, but it's there for those who like to punish themselves!
The best cutscene in the game:
Official Trailer:
Final Conclusion:
Resonance of Fate 4K/HD Edition is another brilliant remaster from the amazing team at tri-Ace, following Star Ocean: The Last Hope's example. This hidden gem was most likely overlooked by a lot of people in the last generation due to its rather unusual mechanics and reportedly confusing story. However, now that the game has been fully updated for the PS4 and PC with a multitude of customisations options, new textures, a more stable framerate, and a massive boost in the resolution, I can't recommend this game enough.
If you've played and enjoyed games such as Valkyria Chronicles then you should check out Resonance of Fate 4K/HD Edition today.
A copy of the game was kindly provided for review purposes
Источники:
http://www.gamepitt.co.uk/resonance-of-fate-4k-hd-edition-ps4-review/