Sid Meier s Civilization V
Sid Meier's Civilization V
Legendary strategy game is a hit with history buffs in school and out
Take a look inside
Pros: It's an expansive, gorgeous sandbox with time-tested and wildly popular gameplay.
Cons: Could prove too challenging for some students and too taxing for older computers.
Bottom Line: For flexible classrooms, creative teachers, and sharp students, Civilization V is the perfect platform for making rather than memorizing history.
How Can I Teach with This Tool?
What Is It?
Is It Good for Learning?
How Can I Teach with This Tool?
With pre-planning and a solid curriculum, Civilization V could act as either a formative or summative assessment of learning, and as a bridge between traditional content learning and a final project. In an American History class, students could start with reading, note-taking, and discussion on the background of the American colonial struggle against England. Students then enter into local network games of Civilization V, assuming different roles (English, French, Americans, Iroquois). After each session, students discuss what happened, and record reflections in a shared Google doc. As a final project, students write a persuasive research essay (using primary and secondary sources in addition to game experiences) responding to a prompt like, "Were England to win the American Revolution, describe what North America would look like today" or "Explain how democracy would be different without the United States Constitution.»
Continue reading Show less
What Is It?
Civilization V is an entry in the historic Civilization franchise, the premier turn-based strategy series. Players expand and grow civilizations through time, pursuing historically based — but ultimately fictionalized — scientific, political, and societal advances as they explore the world, stake their claims, and grow their cultures and cities. They also build (or dismantle) relationships with other growing societies through diplomacy, trade, culture, and war. Civilization V lets students step into scenarios spanning time and geography from Colonial America to Feudal Japan to the Ottoman Empire, and they can do so via single-player play or through complex local multi-player games with other students or online. Be aware that multi-player games support text and voice chat, and if played online rather than locally, students can encounter others.
Two major expansion packs exist for the game: Gods & Kings and Brave New World. These packs round out the base game to include more robust religion and diplomacy options.
Is It Good for Learning?
Civilization V can be a powerful learning tool for classrooms — specifically for social studies -– but it requires creative teaching. Rather than play through history as it was, students experience an alternative history that highlights how multiple factors (military, economic, social, scientific) go into any historical event or decision and nothing is ever certain. It introduces big, exciting questions: What would have happened to Constitutional Democracy if the American colonies signed a peace agreement with Great Britain and ended the war? How would Europe be different if Spain had conquered Elizabethan England? Integrating these scenarios into larger units of students will help students think critically about history as a tool — like the scientific method or algebra — rather than a set of facts.
Описание
Experience one of the greatest turn-based strategy games of all time, Sid Meier's Civilization® V.
———————————————————————————
B E G I N · W I T H · 2 0 · H I S T O R I C A L · L E A D E R S
———————————————————————————
Become Ruler of the World by establishing and leading a civilization from the dawn of man into the Space Age. Wage war, conduct diplomacy, discover new technologies, and go head-to-head with some of history's greatest leaders. Build the most powerful empire the world has ever known.
—————————————————————————
C O N Q U E R · T H E · B R A V E · N E W · W O R L D
—————————————————————————
Brave New World introduces nine new civilizations, eight new wonders, two new scenarios, four new gameplay systems and dozens of new units, buildings and improvements, expanding the ways to build the most powerful empire in the world.
Available now as an In-App Purchase.
—————————————————————
E X P A N D · W I T H · G O D S · & · K I N G S
—————————————————————
Gods and Kings delivers nine new civilizations, such as Carthage, Netherlands, the Celts and the Maya. This robust expansion covers the entire scope of time from founding your first Pantheon of the Gods and spreading religion across the world, to deploying your spies in enemy cities in order to steal information and technology.
Available now as an In-App Purchase.
————————————————————————————
T R Y · N E W · C I V I L I Z A T I O N S · & · S C E N A R I O S
————————————————————————————
Expand your Civilization® V experience throughout world history with new challenges and leaders from Denmark, Mongolia, Polynesia, Korea, Babylon and more!
Available now as an In-App Purchase.
If your system does not meet these minimums, Civilization® V will NOT run on your Mac.
64-bit processor and operating system
OS: 10.11.6 (Sierra) or later
Processor: Intel Core 2 Duo (Dual-core) 2.2GHz
Memory: 2 GB RAM
Graphics (AMD): Radeon HD 2600
Graphics (nVidia): GeForce 8600M GT
Graphics (Intel): HD 4000
VRAM: 256 MB
Storage: 10 GB available space (20 GB available space required for install)
Civilization® V does not support hard drive volumes formatted as Mac OS Extended (CaseSensitive)
User Reviews
Civilization V is a deep, refreshing take on the Civilization franchise. In past iterations the player needed to be diplomatic in order to Civilization V is a deep, refreshing take on the Civilization franchise. In past iterations the player needed to be diplomatic in order to rule the world. Oh, did I say deep and refreshing? Forgive me, I meant to say that Civilization V, in comparison to its predecessors, is shallow in game mechanics which ultimately left me regretful for not reading more reviews before the big purchase. Luckily I found Civ V on sale for about $20 dollars and that's just about what this game seems to be worth. Why Sid Meier and his teams left critical gameplay features on the cutting room floor escapes me. Religion, a major staple of the Civilization franchise, has been completely removed. Diplomacy consists of few clickable options such as trading, war, and «discussions,» which truly only serves as a shortcut to the trading screen. However, Civilization V is not a hole-filled game.
After playing several long matches on standard settings I will say that Civilization V picks up the slack of its former iterations. Cities are much harder to capture. They require the coordination of several units, all on the offensive against powerful city cannons that can brush away small forces. Military combat is much more streamlined; with hexagonal tiles and no unit stacking, smart tactical management of the player's units takes a major role in world dominance. Although combat is much improved, other methods of winning matches are shadowed by the polished combat systems. In every match I played, online and offline, I found that players and AI opt for the Dominance victory instead of the more peaceful options such as cultural or scientific victories. Towards the end of long games, many players will have a hefty income of gold and will be able to instantly purchase whole armies or buildings, easily turning the tide of a battle. Whether or not this option is a glorious feature or a mechanic hinderance still eludes me, perhaps some sort of penalty for abusing the new system could be set in place.
Civilization V would have worked at a higher plane had it choose to adopt the micro mechanics of Civilization IV while keeping the new military system. Diplomacy definitely needs more depth; the detail of the different world leaders and their backdrops are fun and animated, but it's only the icing on a cake made from rocks. … Expand
This game is a disappointment. It's playable — it's very playable — but it's shallow, and too easy. Yes, Civ IV had a lot going on, and this This game is a disappointment. It's playable — it's very playable — but it's shallow, and too easy. Yes, Civ IV had a lot going on, and this could be a challenge for the mythical mainstream audience («mythical» because they'd never buy a Civ game in the first place), and it could certainly have been made to flow more easily; but the right way to make a game flow more easily is to refine problematic but life-like features, not yank them out altogether.
In particular, I was looking forward to a game that handled religion more realistically than the baby-steps of Civ IV — one in which Islam, Confucianism, and Hinduism were not equally congenial to aspiring world empires, and in which a Christian-Jewish-Muslim city was not a model of ecumenical harmony — but what the developers gave us was a backing off from the subject again.
The «one unit per tile» rule is not bad — it makes war feel less like Civ 3 and more like, well, war — but I didn't know that archers had a range of several hundred miles; I also didn't know that classical armies raised entire armies (division-strength? Larger?) equipped with nothing but bows. The right solution for this kind of thing is to train brigades and use a theater model, like that of _Hearts of Iron III_; will game development ever get over _Panzer General_ and its cartoonish style of combined arms?
And lastly, what is _up_ with this game's graphics? Ruinously high requirements; it chugs on my new laptop (which is Windows 7, but with Aero disabled); and it doesn't even look as good as Civ 3 (let alone 4)! I think it's a matter of bad artistic design. although even bad artistic design doesn't explain why the game has late-1990s-level lag in loading ground textures. … Expand
⇡#Всех, кто не считает нас самыми культурными, – расстрелять
Если вас не интересуют завоевания и закулисные интриги, не переживайте – избравшим путь духовного процветания Brave New World тоже приготовил кое-какие сюрпризы. В оригинальной Civilization V и Gods and Kings достижение культурной победы является делом достаточно прямолинейным: необходимо полностью изучить пять веток социальных институтов, после чего построить проект «Утопия» в столице. Мало того что процесс был не слишком интересным из-за невозможности расширять империю (увеличение числа городов вело к астрономическому повышению стоимости разблокировки социальных институтов), так от него ещё и достаточно трудно защититься остальным игрокам. Из-за этого в матчах с живыми противниками всё часто сводилось к тому, что «культурных» на всякий случай забивали первыми.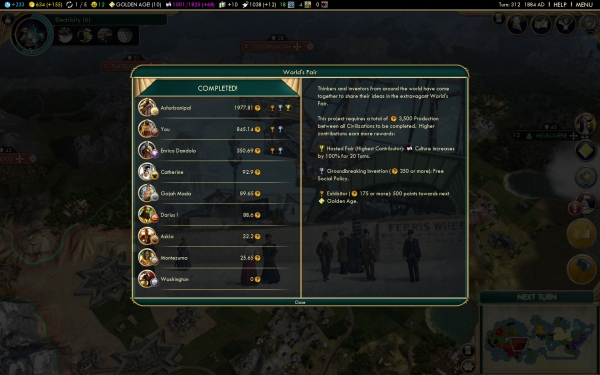 Вместе можно и всемирную ярмарку устроить. Самые энергичные страны-участницы будут достойно вознаграждены за усилия
В Brave New World разработчики полностью перекроили эту систему, сделав путь к культурной победе намного более увлекательным для всех. Очки культуры теперь не только используются для принятия социальных институтов, но и являются защитой от культурного влияния других стран. Для «нападения» служит новый ресурс – туризм. Чтобы получить очки туризма, нужно стимулировать появление Великих людей в своем государстве – музыкантов, писателей, художников. Основная задача светочей цивилизации состоит в том, чтобы создавать произведения искусства, которые затем помещаются в библиотеки, музеи и концертные залы, генерируя тот самый туризм и распространяя ваше влияние на умы людей по всему миру. Аналогичную задачу выполняют археологи – новые юниты, способные поднимать из земли реликвии прошлого. Особенно классно, когда такой находкой оказывается какая-нибудь нагрудная пластина древнего варвара, сражённого вашими войсками триста-четыреста ходов назад, – небольшой, но очень приятный штрих.
Соответственно, для достижения культурной победы нужно лишь наработать критическую массу очков туризма, которая перевесит «защиту» всех остальных стран. Однако на практике так просто бывает лишь на низких уровнях сложности. Матёрые компьютерные соперники прекрасно осведомлены об этой механике, поэтому вы наверняка окажетесь в ситуации, когда одна или две самые упрямые (то есть обладающие собственными традициями и наследием) цивилизации никак не желают поддаваться. Тут-то и пригодятся запасливо припрятанные ядерные боеголовки…
Brave New World получилось очень комплексным дополнением, привнёсшим в знакомую формулу множество новых взаимосвязанных механик. Образцовую работу Firaxis Games можно смело сравнивать с лучшими представителями племени аддонов – такими как The Frozen Throne для Warcraft 3. Это отличное событие в любые времена, а уж в эпоху выходящих бесконечным валом DLC-пустышек, предназначенных исключительно для выкачивания денег из покупателей оригинальной игры, вообще дорогого стоит.
Достоинства:
новые чудеса света, юниты и нации;
два интересных дополнительных сценария с необычными правилами;
изменения и нововведения в игровой механике делают интересным любой путь к победе, причем от начала до самого финала партии;
искусственный интеллект неплохо обучен всем новым трюкам;
магия «Цивилизации», заставляющая делать ход за ходом и отодвигать на задний план остальные дела, никуда не делась.
Недостатки:
иногда компьютерные правители действуют в Конгрессе нелогично.
Parents say
Wondering if Sid Meier's Civilization V is OK for your kids?
Parents: Set preferences and get age-appropriate recommendations with Common Sense Media Plus. Join now
Great game, nothing actually bad too it
The game may have some fighting scenes. But all it is really is the soldiers go to fight, then if one of them gets hit they fall on the ground then just disappear. No blood gore or anything of that sort.
The game also teaches kids to balance a budget and the war is costly both time and money wise. For each unit killed you loose time building/training the unit and you lose a front in the war. It also shows how easy it is to get into debt and how hard it is to get out.
It also has some historical accuracy to it. Giving kids some extra knowledge on the way! E.g.: the leaders are accurate to their respected nations (Washington to USA, Gandhi to India etc); it also has historically accurate units and buildings (japan has the samurai, Egypt has the tomb etc)
The only thing about civilization 5 is that its learning curve is MASSIVE. My son managed to understand the game within 3 days. That may not sound like a lot but for younger audiences (my son was 10) and children/tweens who don't like the strategy genre, this may be an even bigger learning curve. Other than that I totally recommend this game.
This title contains:
This review.
Civilization V — incredibly fun, and highly educational
Civilization V is a stunningly enjoyable game which has the potential to inspire people of all ages to learn more about history. Although it does not present an accurate portrayal of historical events (as it allows each player to choose their own path), it presents the course of human history and civilization as a fascinating journey. Even more importantly, the emphasis it places on long-term strategic thinking and planning promotes strong development of decision-making and reasoning skills.
Although the game does not present a specific sense of morality, this ambiguity allows players to think intelligently about the choices they make and the real impact those choices will have on their virtual subjects. This might be lost on younger players, but it's a great idea to talk about this with older, thoughtful children.
In many senses, this game is a lot like chess for the twenty-first century. People play it as entertainment, not to learn, but while playing Civilization V, learning is almost unavoidable, even if you don't notice because you're having too much fun.
Although I rated the game as being appropriate for anybody over the age of 8, that's a reference to the content, not the difficulty. Even on the easiest setting, the game will most likely be too difficult for most children under the age of twelve or so, unless an older player helps them as they learn the game.
The game can be violent in a sense, but roughly in the same sense that chess is violent: in chess, you move pieces from one tile to another on the game board, taking over the territory that your opponent's pieces once occupied. Although the combat in Civilization V is dressed up with fancier graphics and some sound effects, it's relatively abstract like chess, as though you're moving a token on a game board.
In summation, Civilization V is loads of fun, and also a genuinely positive experience, challenging players to engage in creative planning, weighing priorities, calculating risks, adapting to changing scenarios, and considering the morality of their actions. I have been playing the Civilization series of computer games since I was a child, and it took me decades to realize just how much I was learning from it. The beauty is, you don't learn facts — you learn how to *think*, and that's the most important type of learning there is.