Skylanders SuperChargers: planes, cars and new plastic toys
Skylanders SuperChargers: planes, cars and new plastic toys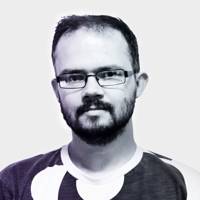 Gallery: Skylanders SuperChargers: planes, cars and new plastic toys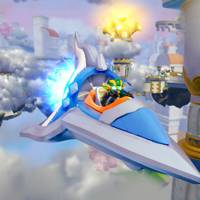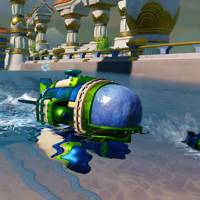 The Skylanders heroes have apparently been taking driving lessons since last year's Trap Team, as Activision has announced this year's offering in the toys to life franchise will be introducing vehicles into the mix for the first time.
Skylanders SuperChargers will introduce new areas of the Skylands to play through, and take a diversion from action platforming with the introduction of vehicle-based racing, combat, and puzzle solving sections. It also brings a host of new playable characters to collect in toy form.
Advertisement
The new game also promises something the series has never seen before — articulation. Split into three categories — land, sea, and air — the vehicles will be more like «regular» toy cars and planes, with rolling wheels, rotating propellers, and movable wings. They still pack in a near-field communications chip though, transporting them into the SuperChargers game when placed on the «Portal of Power».
Although any existing Skylanders character can drive or pilot the vehicles in game by placing them on the portal at the same time, the new SuperChargers class of characters get the most out of them. These are the key characters for the year, similar to the earlier Giants, Swap Force, or Trap Team members. Pairing them with certain vehicles — such as putting new hero Spitfire with the fiery hot rod Hot Streak – unlocks new abilities and the titular supercharged mode.
Gameplay remains familiar, with players initially exploring levels on foot and battling hordes of enemies. Approach a vehicle marker though, and you'll be prompted to place one of the new toys down, entering areas that showcase SuperChargers' additions to the Skylanders experience. Developer Vicarious Visions has pleasantly avoided the temptation to just mash in a kart racer between levels — instead you'll engage in Starfox-style shy shooter sections, or have to navigate aquatic paths that require thinking about paths above and below the waves.
As you progress, you'll not only collect experience for your characters but GearBits for the vehicles themselves. These are used to power up your craft at pit stop points, while mods collected through the levels can be applied at any point, customising vehicles on the fly. Each craft has three areas that can be customised in-game, allowing for unique approaches even for kids who have the same physical toy.
Advertisement
The toys themselves are a nice addition to the Skylanders range. The SuperChargers characters are smaller than last year's Trap Masters, more in line with the 'regular' sized figures, but the detail of the sculpts is impressive. They're very dynamically posed, with very nice paint jobs and areas of translucency. Sadly, they don't physically fit in the vehicles, which are of a similar scale. However, these are also very nicely made toys, with fantastic designs. Vehicle articulation isn't a universal feature — the futuristic Sky Slicer jet is a solid piece, for instance — but those that do have moving parts feel sturdy enough to be played with away from the game.
In total, there will be forty new pieces of Skylanders merch released for SuperChargers, across characters and vehicles. Thankfully for cash strapped parents (and collectors who should know better) the game retains compatibility with the more than 300 characters already released. Some of those will get updated versions for SuperChargers though, such as the revamped Sure Shot Stealth Elf.
Skylanders SuperChargers launches on 25 September, for PS3, PS4, Xbox One, Xbox 360, and Wii U. There will also be a «Portal Owners Pack» for those with earlier entries, with just the game and virtual versions of Spitfire and Hot Streak.